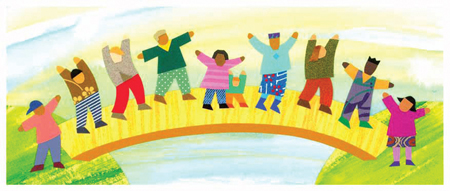 SkillBridge is designed for people that challenged by breaks in instruction, most significantly summer break. Designed to meet the needs of people of all ages, this intensive program is built to maintain and enhance skills during the summer break.
It is feasible for people to lose skills over breaks in instruction. Intensive interventions like SkillBridge support maintenance and often enhance and develop skills. Participants will receive 18 hours of intervention in total. This model offers one-to-one instruction plus an opportunity for skill generation each day. Interventionists are happy to work with your current team to develop a program specific to your individualized needs. 
The DeWit RiteCare is a student training facility. Students are supervised and educated by professionals and offer high-quality services. 
Many participants will be referred to the SkillBridge program by their current speech-language pathologist or physician. People are welcome to self-refer. 
To participate we will need you to help us acquire the following: 
Records from your current speech-language pathologist, current IEP or any other supporting documents
A prescription from your doctor for medical necessity in order to bill your insurance 
A $20 non-refundable deposit to hold your spot in the program 
To secure your spot in the program, please contact Heather Winters, the DeWit RiteCare office manager, at 406-243-2405. 
Dates: 7/9/2018 - 7/24/2018
Daily Schedule: 
| | |
| --- | --- |
| 8:30am - 10:00am | Early Years |
| 10:30am - 12:00pm | Adults  |
| 1:00pm - 2:30pm | School Age |
| 3:00pm - 4:30pm | Upper School Years |
Participants may be required to meet with the team during the week of 7/2/2018 for identified assessment needs. 
Amanda Jackson (MS CCC-SLP) is an educator and the clinical externship coordinator in the Department of Communicative Sciences & Disorders at the University of Montana.